Now that millennials are having children, looking for a nanny or babysitter has never been more simple. Choosing is easy! Here is up-to-date information of these two child carers that can guide you in selecting someone right for your family.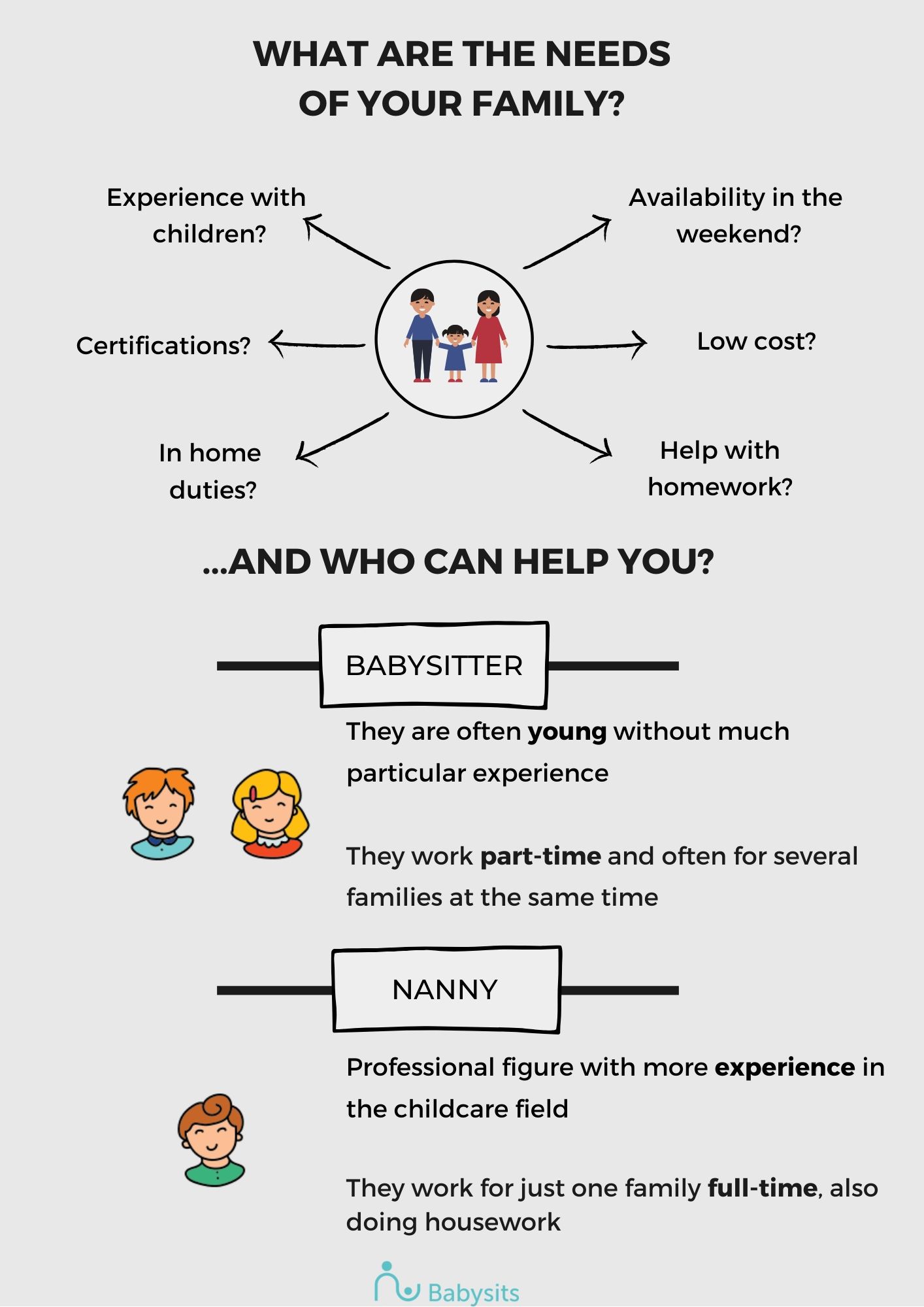 Babysitter
Babysitters are often high school or college students. For their young age they can bond more easily with children and are more likely to participate in activities that children like. Keep in mind, however, that often babysitters have not attended a course of study related to education of children. Nevertheless, you can still find an equally qualified person. The important thing is that it has certain characteristics such as, for example, sweetness, kindness, empathy and patience.
A babysitter is hired by a parent or a guardian to temporarily care for children that are too young to be left at home alone. Usually hired for a few hours to allow parents a break from parenting, babysitters can take care of children of all ages. Babysitting appointments are generally carried out in the child's home and although a babysitter may have many responsibilities, their main responsibility is to ensure the well-being and safety of the child/children. Other responsibilities may include the planning of activities, helping with homework and possibly even cooking and light housework. The tasks and responsibilities of a sitter differ on a case-to-case basis.
This figure can work simultaneously for several families. He/she works mainly part-time and for a few hours a week; in this regard, an hourly rate is established based on the hours performed. Moreover, he/she can come to your aid when an unexpected event occurs.
Nanny
Unlike a babysitter, the role of a nanny is much more similar to the role of a parent. Devoted to a child's personal growth, happiness, comfort and security, a nanny usually cares for children on a full-time basis. Some parents even consider their nanny as a "co-parent" to their child. Nannies tend to have more tasks and duties to complete than a babysitter. Nannies may prepare meals, complete household work, organise activities, create schedules and assist with schoolwork.
Full-time nannies are usually professionals who have completed school programs in childhood development. This can be highly beneficial for families. A nanny can be live-out which means that they have their own place of residence and travel to and from the family home every working day, whilst some nannies may be live-in which means that he/she lives alongside the family. The live-in nanny is given their own room and area to live in when off-duty.
Inevitably, many families find that their nanny becomes a lovely addition to the family. Children develop a bond with their nannies that can last a lifetime!
Which one to choose then?
Certainly there are some factors to consider, such as the age of your children, the amount of hours you need and the specific skills required in the figure in question. Do your own research and find a babysitter or nanny based on the specific personal needs of your family!